Like our website or visit our facebook page

Welcome to our Halloween page
The show will run 10/16 - 10/31 (6:00pm - 9:00pm)
2020 Videos are on the way
2013/2014 Songs/Videos
I Want Candy
Reflections of Earth
Theme from Addam's Family
Theme from Childs Play
Theme from Dead Silence
Theme from Friday the 13th
Theme from Halloween
Theme from Jaws
Theme from Saw
Trans-Siberian Orchestra - Carmina Burina
Trans-Siberian Orchestra - Carpimus Noctem
Van Helsing's Curse - Tubular Hell
Zach Hemsey - Mind Heist
Monster Mash
Purple People Eater
Thriller
Theme from Ghostbusters
This is Halloween
Banana Boat Song (Day-O)
2012 Songs/Videos
Previous years videos at the bottom of the page

Theme from Addam's Family
Theme from Childs Play
Theme from Dead Silence
Theme from Friday the 13th
Theme from Halloween
Theme from Jaws
Theme from Saw
Theme from Terminator
Trans-Siberian Orchestra - Carmina Burina
Trans-Siberian Orchestra - Carpimus Noctem
Van Helsing's Curse - Tubular Hell
Zach Hemsey - Mind Heist
Monster Mash


Purple People Eater


Thriller


Theme from Ghostbusters


This is Halloween


Banana Boat Song (Day-O)


We started doing synchronized Halloween lights in 2009.
If started out simply with a few floodlights in orange and purple, some orange minis around the
porch posts and some red lights inside the house to illuminate the 1st floor windows from behind.

Kathryn, our youngest daughter, picked out 5 of the 6 songs for that year. I built a control box
with six big 3" buttons that the trick or treaters could press. Each played their own sequence.


In 2010 I rebuilt the window frames for Christmas, I recycled the old frames and put in orange C9s
for halloween. Added flood lights to the second story as well and more minis around the porch posts.
New songs were added as well, I think our total was 10 songs, too many for another controller, so
that was removed, much to the disappointment of the kids.


2011 we saw the addition of purple C9's to the window frames and even more songs.
We had a total of 12 songs.
For 2012 we are adding the popular singing faces with a multitude of news singing songs.
We'll have the monster quartet along with a singing pumpkin.


Pictures 2012
Pictures 2010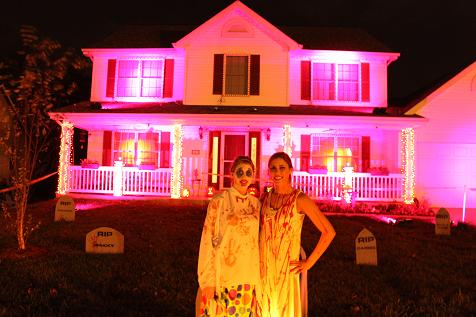 Purple floods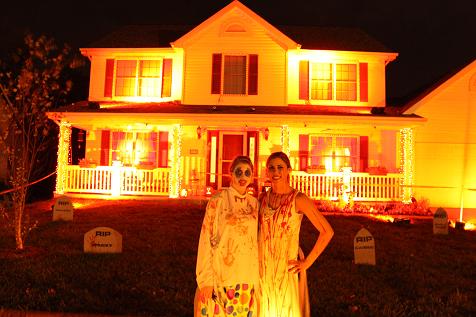 Orange floods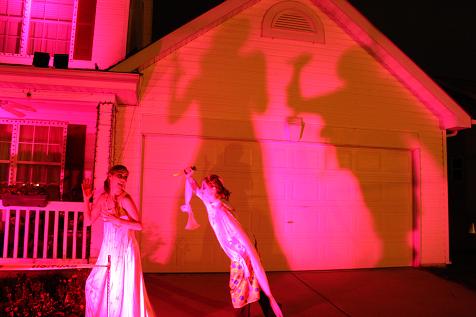 Live action!

Videos
2009
2010
2011 - New Songs
2011 - Previous Songs